July 18th, 2014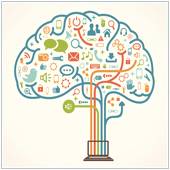 Virtualization is the act of moving a physical component or bit of software from a physical environment to a digital one that is normally delivered over a network. This concept has become one of the most sought after tech improvements of the past decade, especially among small to medium businesses. The only problem is, virtualization is complex and carries with it some confusing terminology. To make things easier, we have created a glossary of ten common virtualization terms.
1. Virtual Machine (VM)
You will often hear virtualization experts bandy about the term VM. What they are talking about when they say this is the Virtual Machine. The VM is essentially a virtual representation of the computer on your desk. It can do everything a physical machine does, only everything is virtual and usually delivered over a network connection.
Read more.